NatureJunkie's blog sparked memories of the many horror stories and strange local lore I've learned about since I moved to the state of New Jersey.  Weird NJ Magazine explained the details and history of many of them for me. I have a few of the first publications of this bizarre mag. 
In my Weird NJ thoughts, I was reminded of the park we lovingly called  'Traction Park' 
  Videos on this page have the Best interviews with former employees .... 
Traction Park was EXCITING as all get-out for a KID. I had to bribe parents to be permitted to go with my cousins.  It was an extension of the 70's "no safety" way of life, but on steroids on the side of a rocky ski mountain.
SCARY but not in a supernatural sense.  
My personal favorite injury occurred on the infamous Alpine Slide, where your cart with metal roller-skate wheels went free falling down a winding course. I ran the whole course with a big dude behind me, doing higher speed forcing me up and over the shallow rail into the rocky hill. Then the dude launched over me landing on the rocky slope in front of a tree, cart upside down. This course was lined with plenty of trees. No one seemed to finish the course without exiting it over the sides and having to carry the cart back to the track and jump in; between other speeding idiots. You couldnt walk down either, it was a steep rocky ski slope. Physics were NOT considered in the design of these attractions.
Apparently Kentucky still has an operational Alpine Slide which looks much like the Traction Park course only less steep with less sharp turns.  The carts also don't look like rusty rollerskates under a kitchen sink drainboard. Perhaps that updates it a bit?
Every ride offered a way for people to land on each other's heads, drown with no lifeguard, launch into the woods on wires and ropes, crash untethered THINGS into human bodies; even electrocute themselves! You always want electricity and water haphazardly co-existing.  People still talk about this place.  
SEcond to the Alpine Slide Death carts, most people recall with love, the bonus high speed Enema Slide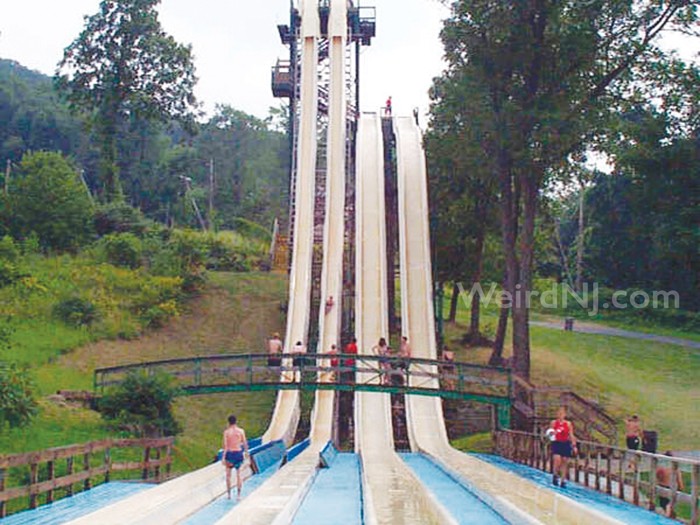 I remember there were REAL race cars --OVER the highway but luckily I was too young to be permitted to even go see them.
Oh the 80's and 90's , so WET n WILD!  Now you can't ride anything with wheels where you might fall down.
Thank you again, NatureJunkie for kicking it into gear with a real story of "fear". 
I hope to see a variety of WEIRD, wonderful, frightening, silly superstitions, laughable nostalgia, debunked horror stories, monster folklore, urban legends, unusual, supernatural, grotesque, historically interesting, and otherwise twisted posts this month.   POSTS, not just videos,  post photos too and make sure we know they exist by maybe putting links in a blog for us.